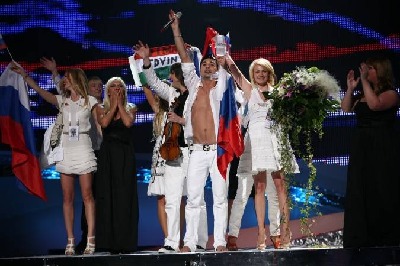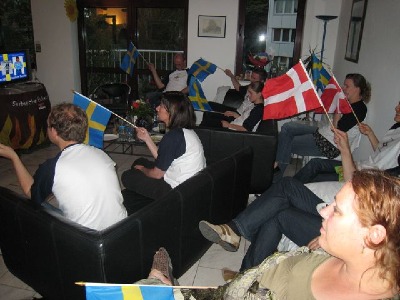 Vielen Dank - Thank your very much - Mercie beaucoup - Grazie mille - Tak für ein tolles Publikum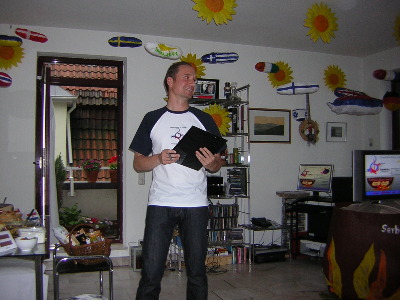 19:30 o'clock The party starts now!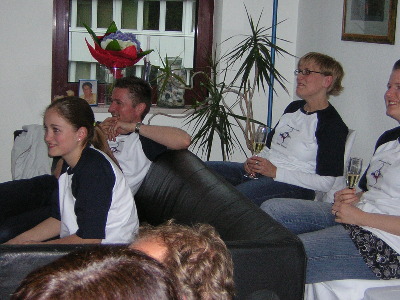 The audience is waiting nervously for teh live acts and before the opening of the Diner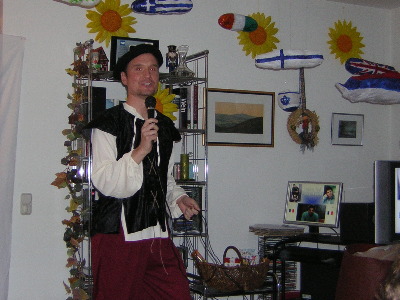 Patrick Fiori is live on stage - a superstar from France.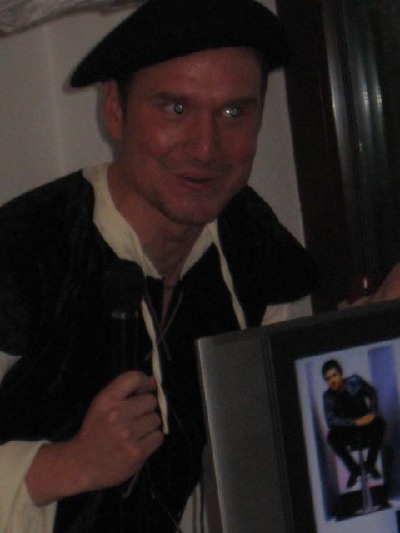 Toutes les peines?!!!

ou toutes les haines?!!!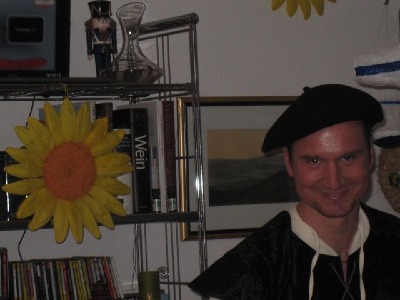 Der Suppe hat's wohl gefallen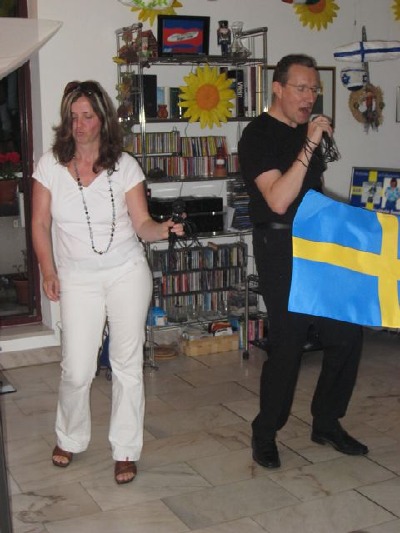 20:15 Anna-Frida (A) and Benny (B) from ABBA are performing "Does your mother now"

Now they are performing "Money, Money, Money" and teh audience is singing and shouting

20:30 A superstar from Goslar is live on stage and is performing a high quality live-show. Thank you very much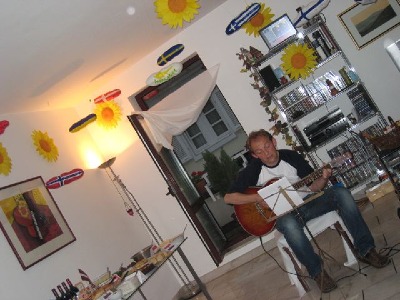 20:50 Dean Martin is back on stage. Incredible.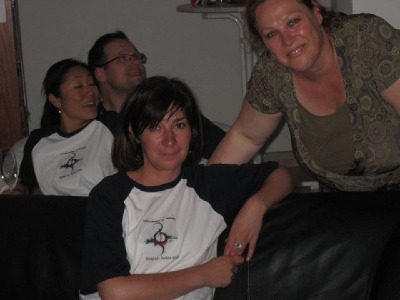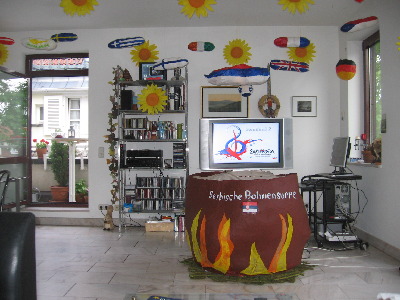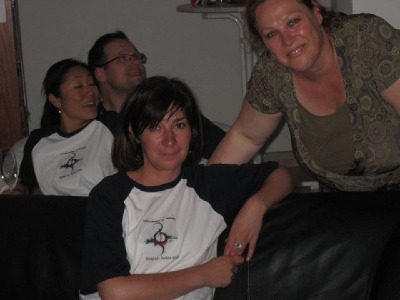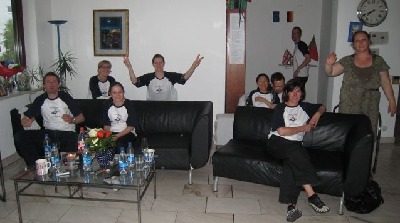 Here are our results:

| | | |
| --- | --- | --- |
| Place | Country | Points |
| 1 | Norway | 113 |
| 2 | Israel | 102 |
| 3 | Russia | 77 |
| 4 | Portugal | 61 |
| 5 | Turkey | 51 |
| 6 | Iceland | 51 |
| 7 | Serbia | 48 |
| 8 | Denmark | 44 |
| 9 | United Kingdom | 42 |
| 10 | Romania | 40 |
| 11 | Albania | 36 |
| 12 | Bosnia & Hercegovina | 34 |
| 13 | Sweden | 32 |
| 14 | Croatia | 27 |
| 15 | Azerbaijan | 27 |
| 16 | Greece | 27 |
| 17 | Latvia | 21 |
| 18 | France | 18 |
| 19 | Germany | 18 |
| 20 | Poland | 14 |
| 21 | Ukraine | 13 |
| 22 | Armenia | 12 |
| 23 | Finland | 10 |
| 24 | Georgia | 8 |
| 25 | Spain | 7 |
http://www.tummiweb.com/escnation/scorewiz/rsvp.php?id=43401&a=sdt11ig&vnr=next


http://www.tummiweb.com/escnation/scorewiz/show.php?id=43401

http://www.escnation.com/scorewiz/show.php?id=37196

http://www.tummiweb.com/escnation/scorewiz/show.php?id=40739

----------------------------------------------------------------------------------------------------------------------------------------


| | | | | |
| --- | --- | --- | --- | --- |
| N° | Country | Artist | Song | Picture |
| 1 | Belgium | Ishtar | O Julissi na Jalini | |
| 2 | Romania | Nico & Vlad | Pe-o margine de lume | |
| 3 | Israel | Boaz Mauda | As if here | |
| 4 | Netherlands | Hind | Your heart belongs to me | |
| 5 | Andorra | Gisela | Casanova | |
| 6 | Slovenia | Rebeka Dremelj | Vrag naj vzame | |
| 7 | Finland | Teräsbetoni | Missä iehet ratsastaa | |
| 8 | Russia | Dima Bilan | Believing | |
| 9 | Ireland | Dustin the turkey | Irelande douze points | |
| 10 | Estonia | Kreisiraadio | Leto svet | |
| 11 | Armenia | Sirusho | Gele Gele | |
| 12 | San Marino | Miodio | Complice | |
| 13 | Moldova | Geta Burlacu | A century of love | |
| 14 | Poland | Isis Gee | For life | |
| 15 | Bosnia & Hercegovina | Elvir Lakovic Laka | Pokusaj | |
| 16 | Greece | Kalomoira | Secret combination | |
| 17 | Norway | Maria Haukaas-Storeng | Hold on be strong | |
| 18 | Azerbaijan | Elnur Gusseinov | Day by Day | |
| 19 | Montenegro | Stevan Filipovic | Ne daj mi da poludim | |

| | | | | |
| --- | --- | --- | --- | --- |
| N° | Country | Artist | Song | Picture |
| 1 | Hungary | Csezy | Svivveres | |
| 2 | Turkey | Mor ve Ötesi | Dünya yalan Söyülor | |
| 3 | Cyprus | Evdokia Kadi | Femme fatale | |
| 4 | Croatia | Kraljevi Ulice & 75 cents | Romanca | |
| 5 | Malta | Morena | Vodka | |
| 6 | Denmark | Simon Mathew | All night long | |
| 7 | Czech Republic | Tereza Kerndlova | Have some Fun | |
| 8 | Belarus | Ruslan Alekno | Asta la Vista | |
| 9 | Latvia | Pirates of the sea | Wolves of the sea | |
| 10 | Georgia | Diana Gurtkaya | Peace will come | |
| 11 | Ukraine | Ani Lorak | Shady Lady | |
| 12 | Albania | Olta Boka | Zemren lame peng | |
| 13 | Portugal | Vania Fernandes | Senhora do mar | |
| 14 | Lithuania | Jeronimas Milius | Nomads in the night | |
| 15 | FYR of Macedonia | Tamara, Vrcak & Adrijan | Vo imet na ljubovta | |
| 16 | Iceland | Eurobandid | This is my life | |
| 17 | Bulgaria | Deep Zone & Balthazar | Dj, take me | |
| 18 | Switzerland | Paolo Meneguzzi | Ero stupendo | |
| 19 | Sweden | Charlotte Perelli | Hero | |
| | | | | |
| --- | --- | --- | --- | --- |
| N° | Country | Artist | Song | Picture |
| | Germany | No Angels | Disappear | |
| | France | Sebastien Tellier | Divine | |
| | Spain | Rodolfo Chikilicuatre | Baila el chiki chiki | |
| | Serbia | Jelena Tomasevic | Oro | |
| | United Kingdom | Andy Abraham | Even if | |